Donte Carlisle named M&H Valve Employee of the Quarter
July 26, 2021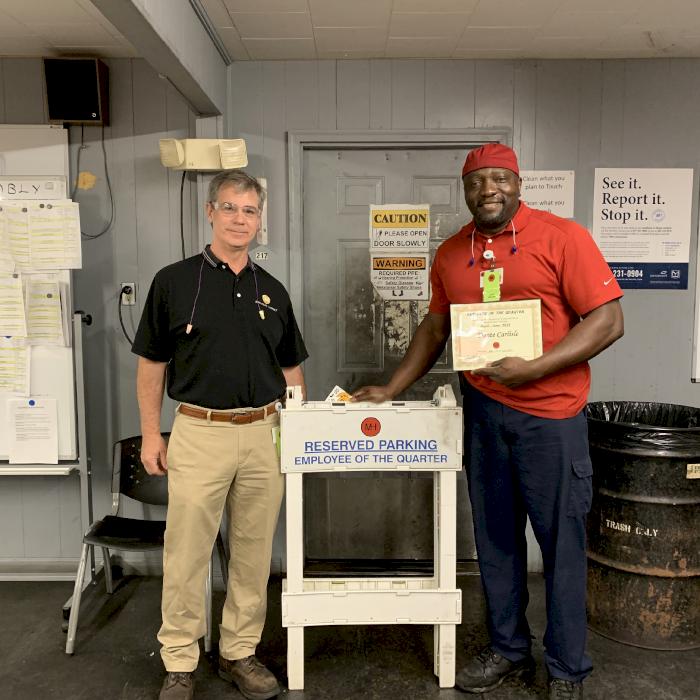 Photo: Pictured L-R: Tony Orlowski and Donte Carlisle
Congratulations to 21 year M&H veteran Donte Carlisle (Expeditor/Inventory Control) who was named the Employee of the Quarter the second quarter. He was nominated by several team members in the Machine Shop and was selected for his exemplary performance in displaying multiple McWane Way Principles.

When nominating Donte, his co-workers stated:
His leadership style is what makes him stand out;
He is a proactive leader that is always watching out for the safety of himself and others;
He demonstrates leadership by setting a good example and communicating with his team;
He communicates well on all levels and has a drive for excellence;
He is a team player with the drive to win.
He is always willing to help others whenever needed;
He always has a smile and a winning attitude; and
He has proven to be trustworthy by holding himself and others accountable for their actions.

The Employee of the Quarter program is a peer recognition program to acknowledge Team Members who exemplify performance, attitude, and initiative as shown by their use of The McWane Way Principles: Safety, Leadership, Accountability, Excellence, Trust, Teamwork, Communication, Environment.

During the awards ceremony on July 15, 2021, Donte was awarded a certificate of recognition, a $50 restaurant gift card, and given the opportunity to choose a parking spot as his personal parking space for the next three months. In true Donte style, he donated the parking space to 50 year M&H veteran and CNC Operator James Hubbard.