McWane recognizes team member with half century of service
June 21, 2017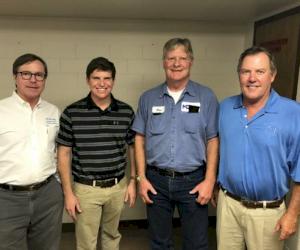 According to the Bureau of Labor Statistics, U.S. workers have been with their current employer an average of 4.6 years. For younger employees (ages 20-24) it's half that (2-3 years).  At McWane we're fortunate to have dedicated team members who work not just years, but decades.

At a recent pipe group meeting at McWane Ductile (MDO) in Coshocton, Ohio, management invited team member Rod McInerney, who has more than 50 years of service with our company, to join them for lunch and meet Ruffner Page, and Phillip and Will McWane.  Interestingly, Rod trained Tyler Pipe general manager Greg Simmons on the cupola many years ago at MDO (formerly Clow Water Systems). Rod said meeting Ruffner, Phillip and Will was one of the most memorable highlights of his long career at MDO. 

McWane employs more than 6,000 team members worldwide who produce the highest quality products in the business. Like Rod, we all share the same values and commitment to building quality products each and every day, year after year.