Miguel Lopez sets the example for his children
July 3, 2017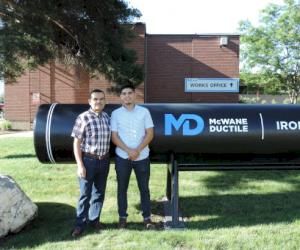 McWane Ductile Utah team member Miguel Lopez, Sr. and his son Miguel Lopez, Jr.
Miguel and Nora Lopez's family learned this year that their son Miguel Jr. had been selected to receive one of the ten $2,000 McWane scholarships that are awarded every year. What makes this one so special is that all three of Miguel's children have received this scholarship.

Miguel's oldest daughter Maria received a scholarship eight years ago and is now a school teacher after earning her degree. Esmeralda received the scholarship three years ago, earned a Bachelor's Degree in Public Health and returned to school and will receive her RN degree next year. Miguel Jr. just graduated from high school and is also heading to college. He plans to pursue a degree in either business or economics at Utah Valley University starting this Fall. He has already completed welding and mechanic training and would like to one day start his own business. Currently he helps manage a used car dealership.

Miguel Lopez, Sr. is a casting machine operator and a valued member of the McWane Ductile Utah team where he just celebrated his 15 year anniversary. He has a great work ethic and sets a good example for his children to follow. In his 15 years of service he has never been tardy or received any kind of discipline and rarely misses work.

We are happy for the entire Lopez family.