Tyler Pipe Team Members Race to Raise Awareness About Autism
May 4, 2015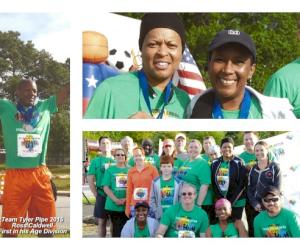 The Tyler Run for Autism began in 2012 with the purpose of raising funds to provide much needed Applied Behavior Analysis (ABA) therapy for children with autism at the local Treatment and Learning Center there in Tyler, Texas. Not only is it a great way to exercise, but it is good to get together with friends away from work and help support the community.
To encourage participation, Tyler Pipe paid the registration fees for team members that wanted to run/walk in this year's event.  We are proud to report that Tyler Pipe team member Ross Caldwell came in first and Jennifer Puckett came in second in their age bracket!
Congratulations to the Tyler Pipe winners and everyone that participated in this event to raise awareness about autism.