Tyler/Union Holds 2013 Team Health Fair
October 15, 2013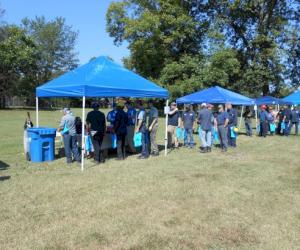 On October 4, over 300 team members turned out for the annual Tyler/Union Health Fair.  Free blood pressure checks, cholesterol screenings, flu shots and healthy living advice were available.  Team members were also treated to lunch on the grounds.
After lunch the team enjoyed playing drunken football toss by putting on a pair of vision blocking goggles while trying to toss a nerf type football through three different holes on a board.  The holes have different point values.  This year five team members tied for the lead.
The Sheriff's Department brought out their Assault Vehicle and the Anniston Fire Department, Calhoun County Extension Agency and America's First Credit Union were also on hand for the event.